Last week the Arena for Journalism in Europe team travelled to Gothenburg to discuss the future of collaborative journalism at the 2023 Global Investigative Journalism Conference. So it was a delight when Marina Walker Guevara from the Pulitzer Center opened the conference with the words "Collaboration is the new normal."
We saw this throughout the conference, with sessions, conversations and connections building the collaborative capacity of journalism. This new normal is here, but it needs nurturing, as a competence journalists can learn and develop. That's what Arena was there to share and support, starting with the collaborative track we organised on the pre-conference day.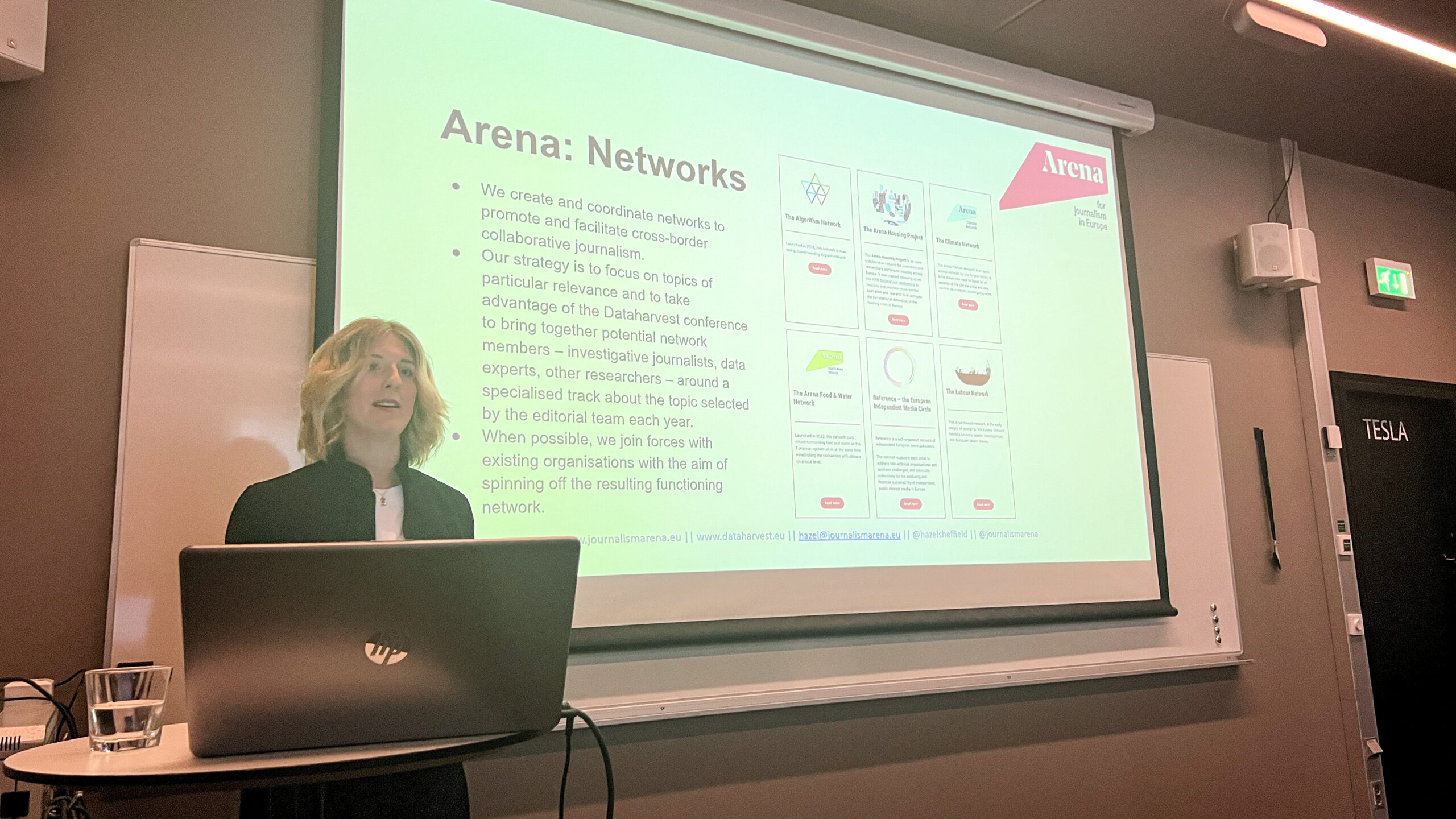 Developing Collaboration: New Trends, New Skills, New Opportunities
In a packed conference room, Arena's Network Coordinator Hazel Sheffield opened the collaborative track tracing the history of cross-border investigations reaching back 25 years. From FarmSubsidy.org, a collaboration to put together a European dataset on farming subsides, which formed the foundation of Datatharvest, to collaborative journalism going mainstream with LuxLeaks, Panama Papers, and Edward Snowden.
It became clear that a crossborder network was a competitive advantage, as new collaborative organisations emerged, such as Investigate Europe, today a 20+ strong investigative team based in 12 countries.
The cross-border collaborations began as a search for efficiencies in time and cost. Collaborating has shown multiple advantages across the decades: helping journalists improve their research, enhancing their security, and raising their impact. Now we see crossborder journalism as a competence: a set of editorial skills to solve challenges. Skills which Arena helps develop with the Arena Academy, Collaborative Desk and Arena Networks.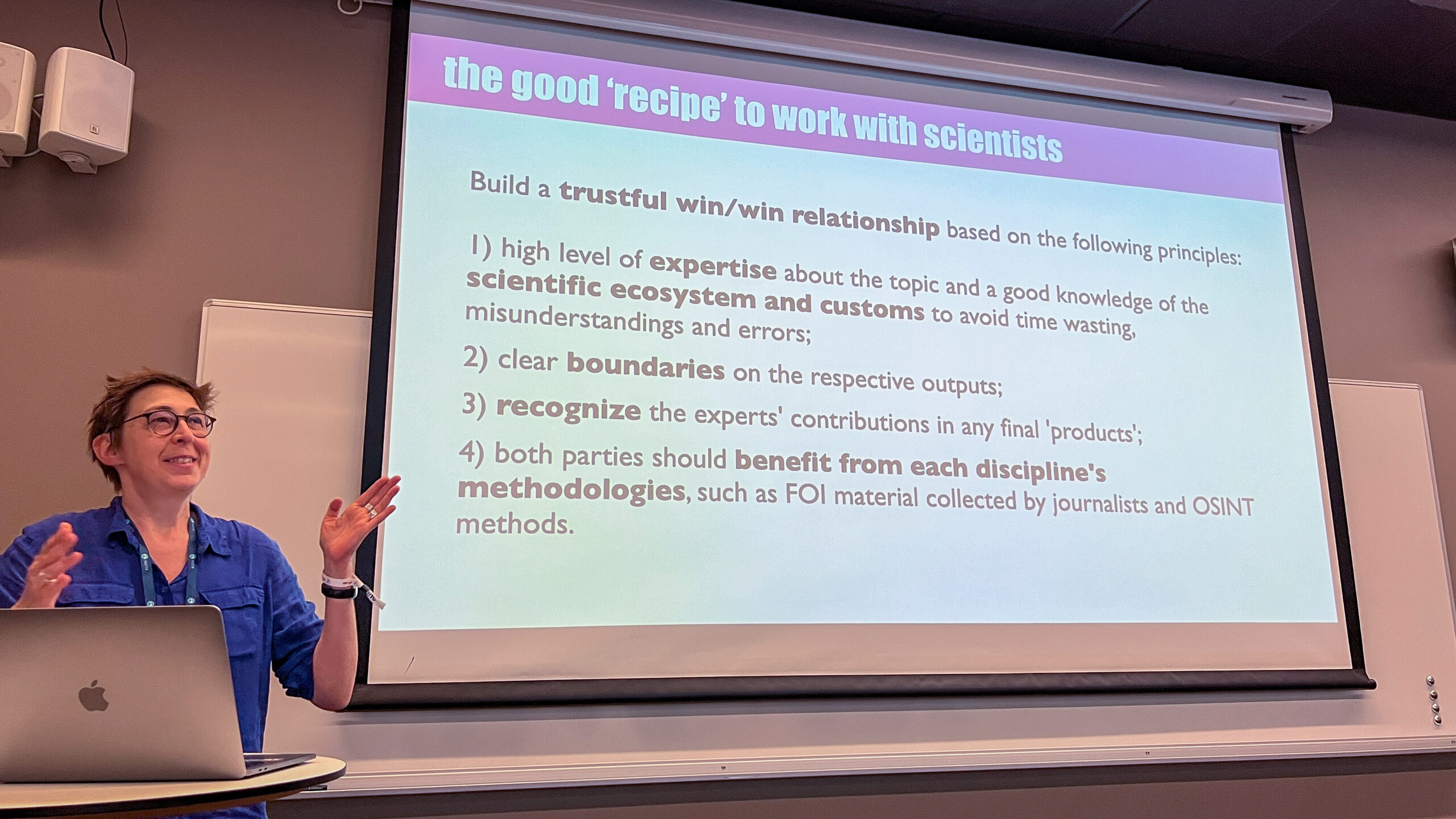 The Forever Pollution Project: From cross-border to cross-discipline
Showing the power of collaborative journalism and pushing the boundaries of the field, Stéphane Horel from Le Monde presented the Forever Pollution Project, an extraordinary collaboration with scientists into the worst chemical pollution crisis facing humanity.
The core team are now working on a scientific paper that will be published in an academic journal, showing the seriousness of their findings and the rigorousness of their method. They are also getting invitations to speak from unlikely places, such as law firms, scientists, and government agencies. Interest from these kinds of actors is a very powerful tool for journalists and their causes.
But it started at Arena, with an idea voiced at the European Collaborative Journalism Programme for mid-career journalists that Arena runs with support from the Toepfer Foundation, and it ended with support from Arena, as we were able to help scale up the project from five to 18 partners, with publications in 12 countries, enhancing the impact of the project across Europe.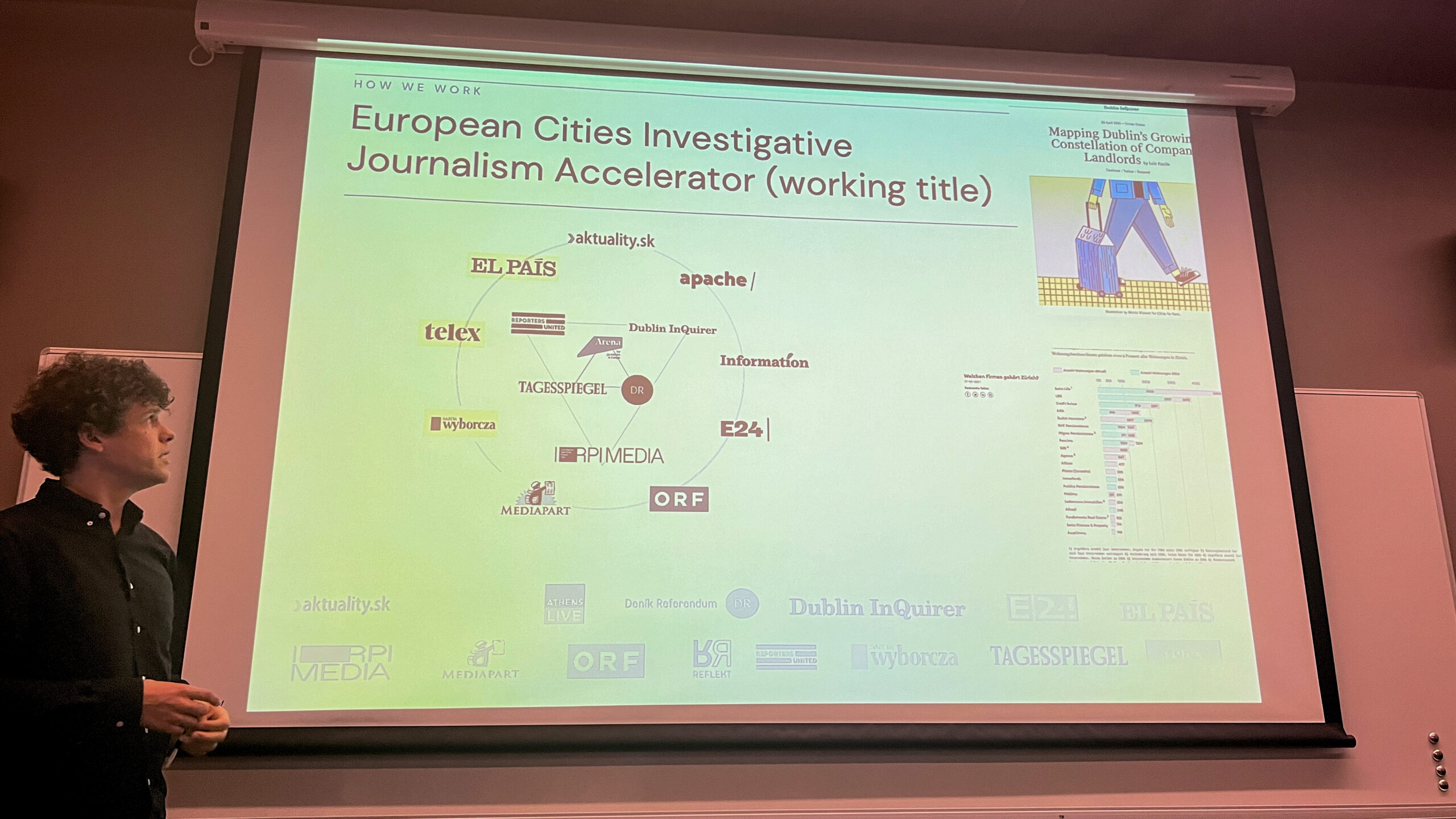 The Urban Journalism Network
Demonstrating another success story of European crossborder collaboration, Hendrik Lehmann from the Innovation Lab at Verlag Der Tagesspiegel presented Cities4Rent. This project was developed within Arena's Housing Network, and was awarded the European Press Prize for Innovation in 2022.
It's now being carried forward by members of the initial team into the Urban Journalism Network, a collaboration between newsrooms in cities including Dublin, Prague, Berlin and Athens. The network is collaborating on urban issues bigger than any one country, from the housing crisis to aging populations. Hendrik showed us the data behind the Urban Journalism Network and laid out the next steps of a network that is now a vibrant, independent, multi-city project about to publish its fourth investigation.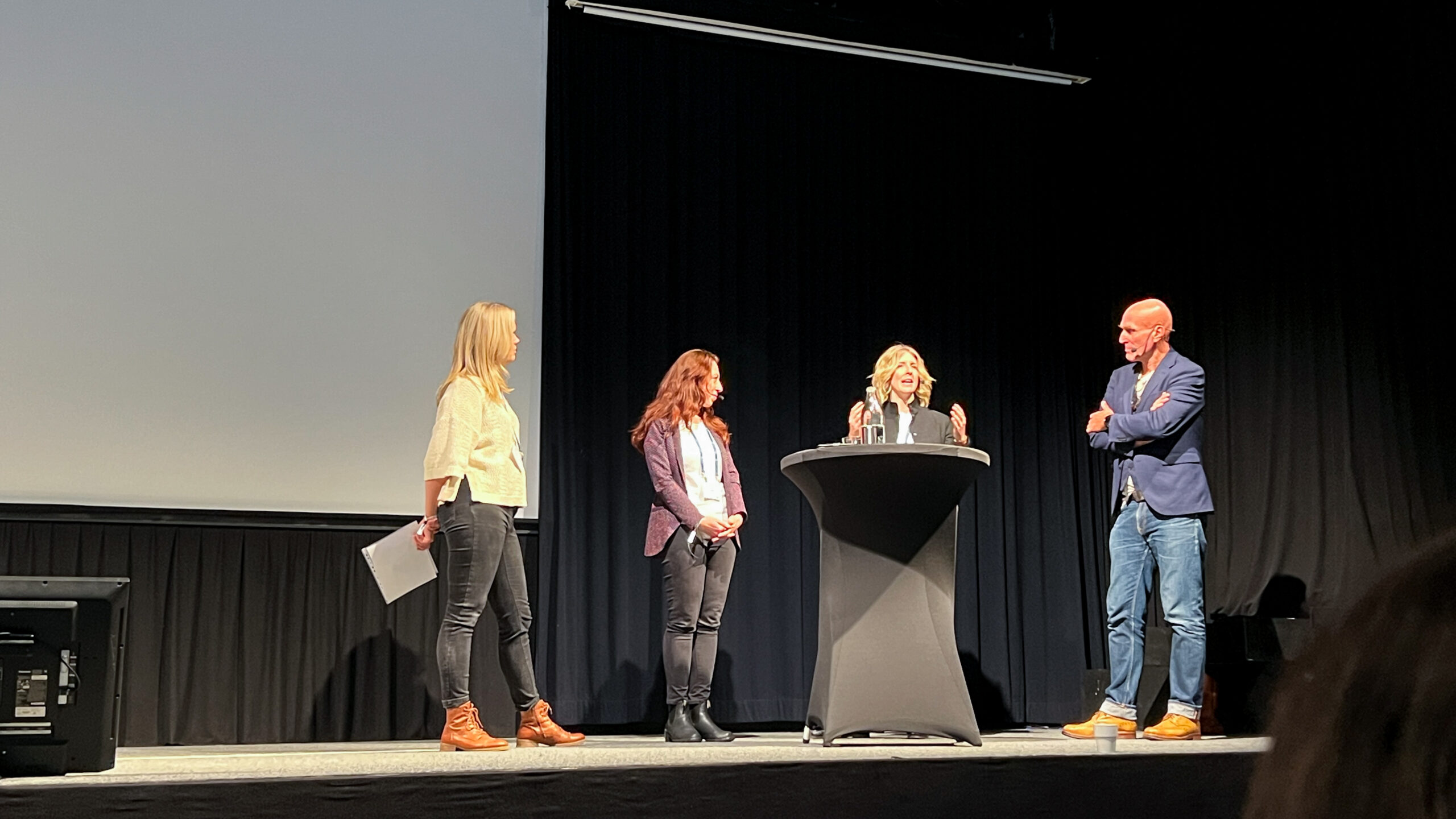 The collaborative advantage
The pre-conference day concluded on the main stage with Hazel joining Garance Burke from Associated Press and Joachim Dyfvermark from Swedish broadcaster SVT in a conversation on the future of investigative journalism, and the key challenges it may face. They shared insights from the session tracks they organised: AI in investigative journalism, innovative investigative methods, and collaborating for greater impact.
Hazel spoke about how Arena's support can take the organisational headache out of starting cross-border investigations – and provide ongoing advice about how to manage remote, diverse reporting teams. Hazel highlighted that collaboration is a tool for research, security, and impact, as well as a set of skills for communicating, and skills you can teach.
"We think of collaboration as a way of communicating, a kind of soft skill in intercultural communication, that is just as important to journalists as learning how to use AI to search data or your interview techniques," she said.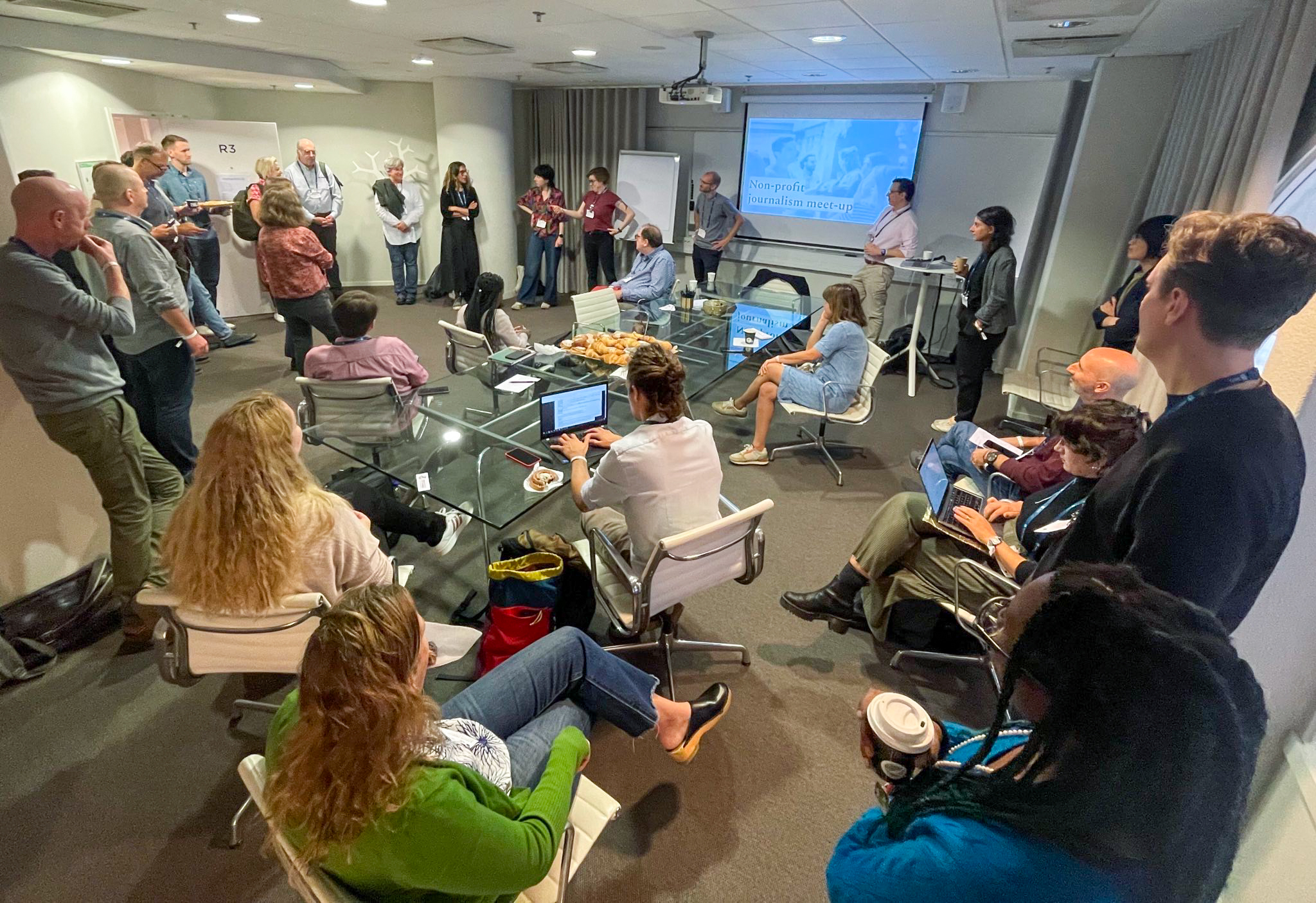 Connecting non-profit media
With Netzwerk Recherche we hosted a meet-up for non-profit news. Lucas Batt, one of the coordinators of the Reference Circle, a network of European independent media organisations, presented their joint project the Journalism Value Project, a two-year investigation into paths to sustainability for independent media.
NR's Malte Werner outlined the first part of this project, with the in-depth survey of independent media due to be launched in October.
It was wonderful to have such a packed room of people interested or working in non-profit journalism, exchanging ideas, challenges, and building connections.
All eyes on climate investigations: GIJC's Climate workshop
Parallel to the collaboration track, GIJC had organised an all day workshop on the future of climate investigations, which the Arena Climate network was delighted to attend.
It was inspiring to hear about so many great collaborative projects and networking efforts, and joining insightful discussions with colleagues old and new about climate issues across the globe.
The concluding brainstorming imparted us with new ideas on how the Arena Climate Network can contribute to its members' work and facilitate cross-border investigations into Climate issues. We look forward to continuing this conversation at least for Europe with many of you at our Climate Arena conference this November in Vienna.
A huge thank you to GIJN for organising such an inspiring and collaborative conference, and to everyone who helped make GIJC23 happen, from participants to speakers and partners. We leave inspired, better informed, and most importantly, better connected.